Mark Bittman is a food writer for
NY Times Food & Dining
section and
cookbook author.
I'm a fan.
Especially when he makes
greek nachos
.
Can't go wrong there.
excuse the crappy droid photo
Don't let the crappy photo discourage you.
Maybe look at
Not Without Salt's
depiction of Bittman's recipe.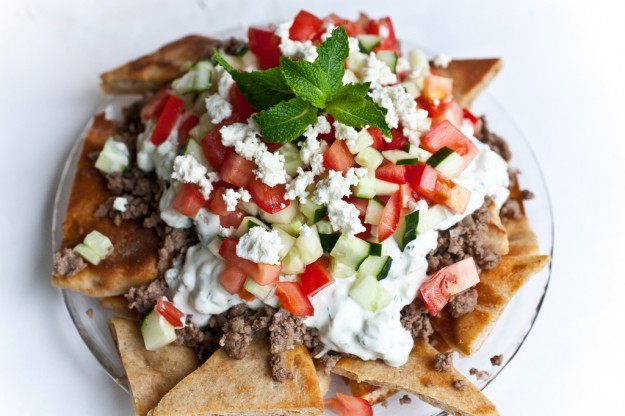 Muccchhhh better.
Here's my lightened up version of Bittman's recipe. He used lamb, full fat yogurt and cheese, and EVOO to thin out the yogurt sauce. I used lean meat, nonfat cheese, and water in the place of oil. All the flavor, none of the fat!
Greek Nachos
Ingredients
6 large whole wheat pitas, cut into 1/8's
Yogurt Sauce

1 cup nonfat plain greek yogurt
1/2 c. fat free feta crumbles
1 tbsp fresh chopped mint
1 small cucumber, diced
1 clove garlic, crushed
1 tbsp really fruity EVOO
1/4 c. water
pinch of sea salt

Beef

1 lb extra lean ground beef
1 small red onion, diced
2 tsp cumin
1 tbsp dried oregano

Toppings

2 roma tomatos, diced
1 medium cucumber, diced
1/4 c. fresh mint, chopped
1/4 c. greek olives, drained, chopped
Instructions
Arrange pita pieces on a baking sheet
Place in a 375F oven for 20 minutes, flip pieces, then bake for another 20 minutes or until chip-y
In a frying pan, brown beef with red onion and seasonings
In a bowl, combine all yogurt sauce ingredients

Think of this as your nacho cheese sauce... Aim for that consistency
You could puree the feta and yogurt first if you want a smooth cheesey sauce, but I like this like tzatziki, so I preferred the chunks
Don't skip the mint. It MAKES the recipe.

On a platter or individual plate, arrange pita chips
Sprinkle over meat
Drizzle with yogurt sauce
Top with toppings of your choice
Never eat nasty yellow cheese nachos again!
Can't wait to have these again! They are also super super lean, so a nearly guilt free meal.