Like most kids, I went through a lot of phases as a kid trying to decide what I wanted to be when I grew up. Unlike most kids however, my phases were cyclical and actually practical (I never wanted to be a fireman or president). At an early age, like elementary school, I remember wanting to be an architect.
I wanted to build big pretty fancy houses for my family and me to live in. I don't know where that urge came from, but I watched a LOT of Bob Villa as a kid, so I blame him.
I don't know when I got over
Bob Villa
wanting to be an architect (the first time) but I started watching more Food Network. The Food Network was awesome in the 90's (it launched in 1993) because there weren't stupid competitions or reality shows or show downs. Sorry Bobby Flay, you're kinda a butt head.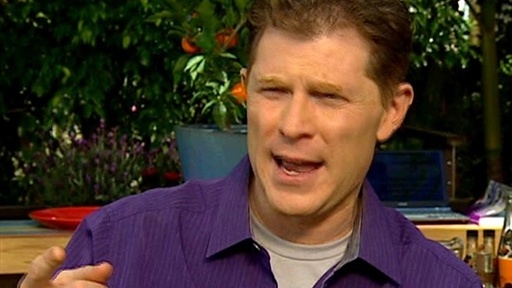 "heyyyyy"
Anyway, the Food Network had shows like
Two Hot Tamales, Ready Set Cook,
Two Fat Ladies, Malto Mario, Sarah Molton,
and
The Dessert Show
(with Mrs. Fields herself!). I watched all these shows and LOVED them. Yes, I watched a lot of TV as a kid. Whatever.
Anyway, I decided that I wanted to be a chef, too. In middle school/early high school I seriously looked into the California Culinary Academy in San Francisco and became obsessed with their admittance process. I cooked dinner for my family as a high schooler, though I didn't really invent or create. I just made the things my mom would make, like stir fry or pizza or sloppy joe's. Fancy stuff.
Other than the Food Network, I think my Grandma had a lot of influence on my desire to be in the kitchen. When I was a kid she was always cooking southern classics like biscuits, bacon, chicken fried steak, gravy, peach cobbler (
MY ALL TIME FAVORITE)
and other things that contributed to my childhood obesity. Luckily I do not cook like that or eat like that (
neither does she! she is the queen of vegetable soup!)
or I would weigh 375 pounds, easy.
this is what my grandma's cobbler was like, sugary, doughy, sticky sweet. i almost licked my computer finding an image.
If I would have stuck with it, I could have beaten Rachael Ray to the punch. But, around 10th grade I decided I wanted to be an architect again.
I think this switch was motivated by money. I wanted to be fricking rich, so I picked a top profession that didn't involve medical school, law school, or business school. (
Life is funny sometimes
).
I took it super serious this time, cause college was just around the corner. I took physics instead of easy science in high school. I interned with an architect and visited clients, drew CAD plans, and helped remodel kitchens. I went to Cal Poly's architecture summer workshop for four weeks during the summer before senior year. This was awesome because I got college credit. I had a GREAT time at what I later called "Architecture Camp". I made some great friends and made even greater memories. In the end I designed a house and got to build a model, too. I built a small home for my grandma and grandpa. It was bright yellow and had a tin roof. There was a room for my grandma to paint and a workshop for my grandpa to tinker around and build things. There were big windows and a hypothetical floor made from recycled materials. The model hit the trash a couple years ago. Sadly, I don't have any pictures of it. I have pictures of all the other projects, like this one of a covered pool structure. This one was cool because we were given a site orientation and had to make sure there was sun at certain hours and shade at other hours over a lap pool.
I made a lot of other ugly shit, too. But you won't be seeing that.
So I applied to Cal Poly with early decision priority. I ONLY applied to Cal Poly. It was the 2nd best school in the nation (next to Harvard) for architecture, and the only place I wanted to go. If I didn't get in then I would do community college in San Luis Obispo until I could transfer. Luckily, I got in.
However, one year into the program, I loathed architecture. I hated having no free time, not being skilled at drawing, not having a passion for building, and not being creative like my peers. I threw in the towel during my first quarter of second year. I had no clue what I wanted to do, but I knew that it wasn't architecture. I wanted to remodel kitchens and build houses, not sketch and create emotive spaces, or build experiential bull crap in CAD software. Not. into. it.
So I switched to a major that I knew little no nothing about. I figured one thing I liked about my arch classes was making the poster presentations using InDesign, and I knew I could keep doing design and layout in Graphic Communication. So I switched and took the intro class. It was about printing.
Wait, what? There are DOTS on this paper? NO shit.
Totally love printing. Still do!
dots!
Unfortunately, printing is not quite a booming industry. And I don't always want to work in production or manufacturing. But I'm young and I can change that now, so I am. And that's why I'm going to school for my MBA - so I can work in more industries than just printing and I can have the basis to be an effective upper level manager in whatever industry I wind up in. Let's just hope I don't rewrite this blog in one year from a culinary school. :)