I often write about having a super fruity EVOO for dressing salads and adding flavor to foods. While you can usually pick out a high quality EVOO at the grocery store, your best bet is farmer's markets and gourmet food stores.
We Olive
is a popular one around these parts. They sells all sorts of tasty olive products as well as fresh EVOO and Vinegars that you can bottle in the store. Olive oil shops are becoming more popular. I credit Rachael Ray.
She totally made EVOO cool.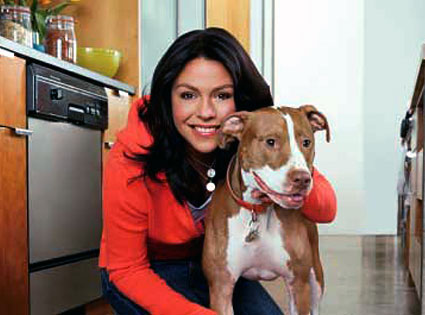 And she likes pitbulls. So we like her.
Ps I once had a 2 sentence conversation with RR about this doggy. BFF's!
Anyway, back to my point: Olive Oil.
We picked up a Meyer Lemon EVOO from We Olive on a recent excursion and I immediately knew how I would enjoy it: Greek Orzo.
Greek Orzo
Makes enough to feed an army
Ingredients
Cooking spray + 1 tbsp everyday EVOO
4 chicken breasts, cut into tenders
1 tsp garlic powder
4 cups chicken broth
2 c. orzo
2 lemons, cut into wedges
1/2 c. whole pitted kalamata olives (or less if you don't like olives... i love them)
1 tbsp dried oregano
2 tbsp super fruity high quality EVOO - I used meyer lemon
Salt and fresh cracked black pepper to taste
Instructions
Season chicken breast with garlic powder and salt and pepper
In a dutch oven or heavy bottomed skillet, brown chicken with cooking spray and everyday EVOO over med-high heat
Once golden, remove chicken from pan
Add broth to pan and scrape up all the crispy chicken bits
Bring broth to a simmer over high heat, then add lemons, olives, oregano, and the high quality EVOO

You're basically making a super greek wonder broth
Once broth is all simmery, add in orzo
Reduce heat to medium and stir occasionally to keep orzo from sticking to the pan
Orzo takes less than 10 minutes to cook
If your orzo soaks up the liquid and needs more liquid, you can always add more water or broth

Cooking orzo is just like cooking pasta. Taste test for doneness as you go.

Add S+P to taste
When orzo is almost finished cooking, place chicken back into pan so it can soak up some of the lemony olivey brothy goodness
The whole lemons make the recipe a little bitter and a little tart, the olives make it a little salty, the starchy orzo makes it a little creamy.... It's a perfect food! If you don't like the bitterness of lemons, you can simply add 1/4 c. of lemon juice and 1 tsp of zest instead of the whole lemons. I think the bitterness really helps balance the dish, though.
Vegan Week Update:
Last post I mentioned that I was planning a vegan week. I have scoured my favorite blogs for recipes and here is my vegan recipe bank, all collected from the blogs I mentioned:
Breakfast:
Overnight Oats
PB & J & Banana Breakfast Pizza
Pumpkin Spice Protein Bars
Lemon Chia seed Muffins
Apple Cinnamon Protein Pancakes
Homemade Vegan Yogurt
Southern Style BIscuits and Gravy
Apple Swirl Loaf
Tofu Scramble
Lunch/Dinner:
Black Bean and Butternut Squash Burritos
High Protein Tortilla Pizzas
Perfect Veggie Burger
Vegan Lentil Walnut Loaf
Stuffed Portabella Pizza
Slow Cooker Seitan Carnitas
Saag PEAneer
Noodle Salad with Peanut Mmmm Sauce
Orange Sesame Tempeh Stir Fry
Pumpkin Curry with Tofu
Mac and Cheese
Protein Packed Falafels with Vegan Tzatziki
Meatless Meatloaf
Baked Vegan Corndog
Hawaiian BBQ Teriyaki Chickpeas
Mexican Stuffed Spaghetti Squash
Seitan Chops Smothered in Apples and Ginger
Orange Pan-glazed Tempeh
Hummus Sandwich
Lentil/Chorizo Tacos
Sides:
High Protein Garlic Mashed Potatoes
Cilantro Lime Chickpea Salad
Fruit
Mixed green salad
Veggies
Sweets:
Vegan and GF Brownies
Double Chocolate Brownie Dough Balls
Chia Pudding
Chocolate Protein Ice Cream
Black Bean Brownies
Solutions for Cheese Withdrawals:
Low Fat Cheeze Sauce
Raw "Cheddar" Dipping Sauce
As I make them, I will post links to the recipes. My biggest concern about eating vegan is getting enough protein. It's my favorite food group, and I'm basically a body builder, so I really need my protein. (Sarcasm). But seriously, it's a concern.
Have a wonderful Superbowl weekend! Don't eat yourselves sick!